Training Courses & Consultancy
FES Emergency Training deliver a range of classroom courses, practical training and consultancy services in emergency management and fire safety. Our programs have been developed by expert fire fighters, adhere to Australian Standards and are delivered by fire fighters with many years of field experience.
Find out more about our courses, and why you should train with FES.
Warden Courses
We deliver two warden courses, both with classroom delivered theory and a practical component.
Wardens – a 3-hour course in the fundamentals of fire and emergency safety, with hands-on fire extinguisher training
Chief Wardens – a 2-day course in the theory and application of emergency management procedures, including the responsibilities of being a chief warden and member of an ECO

The courses are delivered at the FRV's Burnley training facility. For larger groups, the Warden course can also be delivered at your premises.
Practical Training
We deliver two courses designed to equip first responders with the skills needed to combat a small fire. These courses provide hands-on training with portable fire equipment, including fire extinguishers, fire hoses and blankets.
Supervised Activities and Consultancy
We provide specialised consultancy services to support your workplace, site and organisation.
Emergency procedure planning
Specialist consultation services

Place of Public Entertainment Safety Officer Course
The Safety Officer course is a specialist course designed for safety officers at public events. The course is registered with the Victorian Registration and Qualifications Authority, and managed in collaboration with the Victorian Emergency Management Training Centre (VEMTC).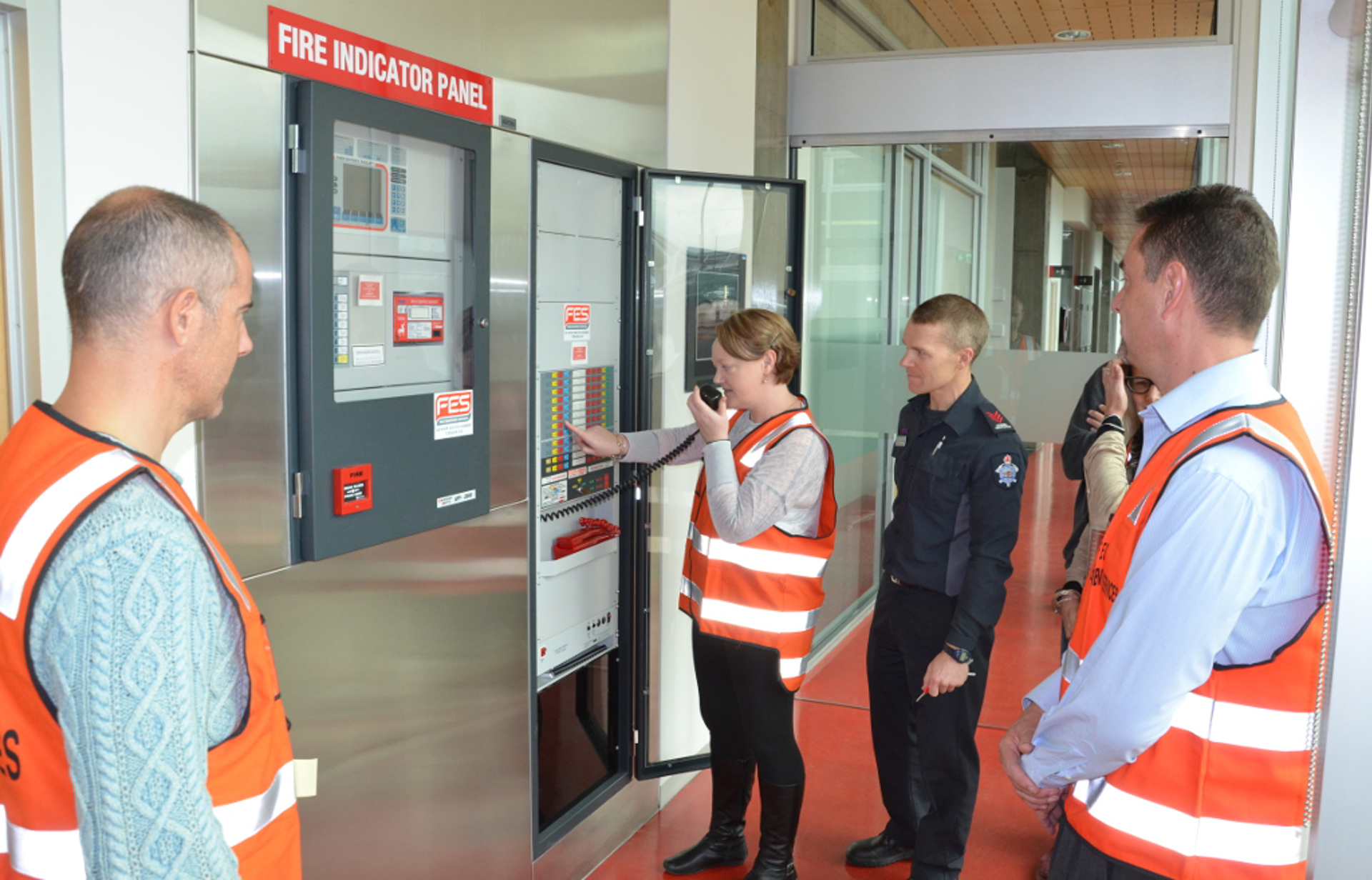 FRV
Be trained by real firefighting professionals
Upcoming Course Dates

COVID-19 Advisory
Fire Equipment Services is committed to community safety and protecting you and your assets as our highest priority. We are actively monitoring the COVID-19 (Coronavirus) situation, taking proactive steps and following official advice issued by the Victorian and Australian governments.
Resumption of Face-to-Face Training
FES are resuming the delivery of face-to-face training courses at client premises. Contact us today to register your interest and book your training needs.
As we return to a COVID-normal environment, there is a heavy demand for our trainers. For our existing customers who had courses delayed earlier in the year, we are prioritising your needs and giving you first opportunities for rebooking. All customers on our waiting lists should have received initial contact, but if you haven't heard from us please contact us today – 1300 855 163.
Public Courses at the FRV Burnley Training College
The popular Warden, Chief Warden and Place of Public Entertaining Safety Officer courses will resume in 2021 – we do not have a specific date yet, as we finalise procedures to conduct the training in a COVID-safe way. Please contact us to register your interest, so that we can contact you when the course dates are set.
Online Course Delivery Option
To support the community through the COVID-19 pandemic, FES has established a number of warden safety courses that are delivered online. Our experienced trainers facilitate these courses using Zoom, enabling your team to participate in training from home. Contact us today to find out how we can tailor these courses to your specific needs.
Our office staff are available to assist with training enquiries 10am – 4pm weekdays. To make an enquiry or booking with FES Emergency Training, please contact us via email at training@fes.com.au or phone on 1300 855 163.
PRACTICAL EXPERIENCE
Train hands-on with fire extinguishers, hoses and blankets
Training by experienced firefighters
Businesses, lives and communities can be at risk in an emergency. There is no second chance.
Safety & Compliance
Safety is everyone's responsibility. The Occupational Health and Safety Act and the Australian Standards for emergency planning in facilities place obligations on property owners, property managers, employers and employees. These regulations and standards lead to compliance regimes that help us ensure everyone's safety, reducing risk to person and property, and aiding emergency responders to assist us when incidents occur.
FES provide a range of emergency management, consulting and training programs to help you prevent, manage and respond to emergencies. In addition to our popular training courses held at the FRV Burnley Training Facility, we provide consultancy and training services customised to your needs and delivered at your premises. Our services are designed according to the Australian Standards AS 3745-2010 and 1851-2012.
Train with experienced firefighting professionals.
FES don't take short-cuts with training – we provide you with the knowledge and confidence you need to stay safe. FES trainers are firefighters working in Fire Rescue Victoria (FRV), bringing a wealth of real-life experiences and practical examples to our training programs. When you attend an FES course you can be sure that you are training with the most knowledgeable people in the industry.
Standard Fire Orders
Download a copy of the Standard Fire Orders to print and share with colleagues and friends.
Initial Emergency Response – Standard Fire Orders (PDF, 2,376KB)
Contact Us
Not sure which course or service you need? Contact our team for advice by phone 1300 855 163 or by email training@fes.com.au. Our team are available 10am – 4pm weekdays.